Hall of Science
In one big pavilion, 11 companies and organizations present displays devoted to recent and imminent advances in scientific knowledge - including the simulated meeting in orbit of two space vehicles. The building itself, a permanent structure, will become the New York Museum of Science and Technology.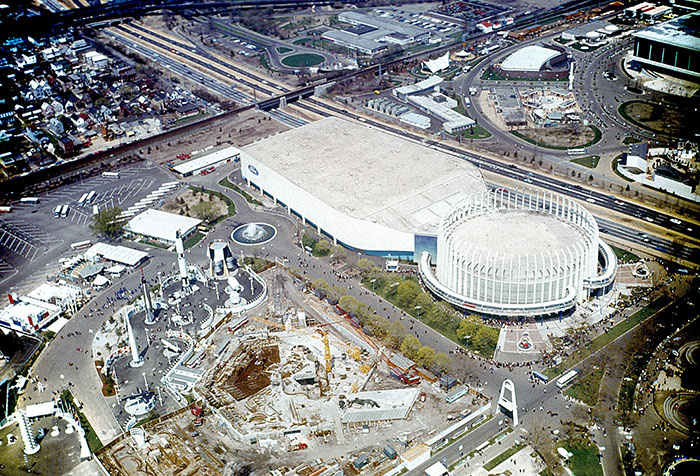 It's 1964. The Fair is open and there are long lines for the Ford pavilion, but the Hall of Science is still a massive construction site. The Hall of Science was one of the last buildings completed for the Fair, not opening until well into the 1964 season. (CD #54 Set 229 #13)

---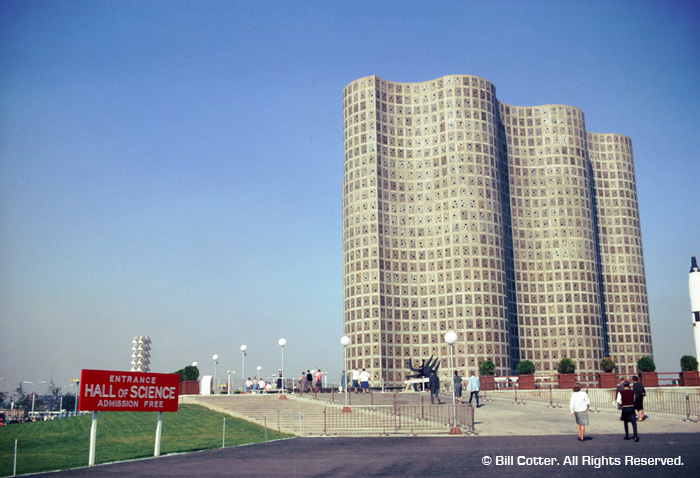 When it was finished, though, the Hall provided to well be worth the wait. A mostly underground exhibit hall was capped by the undulating waves of the Great Hall. (CD #19 Set 100 #4)

---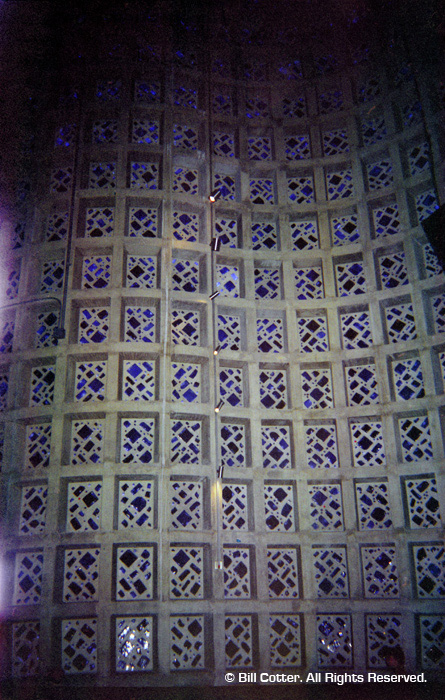 A Journey Into Space. In the Great Hall, a supply vehicle appears to blast off from Earth, bound for a meeting with a space station in orbit 350 miles away - actually about 50 feet above the floor. This exhibit, presented by the Martin Marietta Corporation, heightens the impression of a trip into space with the use of motion pictures and authentic sound and lighting effects.
Taken inside the spacious Great Hall, this view shows the glass blocks that were used in the construction. Translucent, they allow light from the outside to illuminate the wall in a wide variety of patterns. (CD #15 Set 73 #5)

---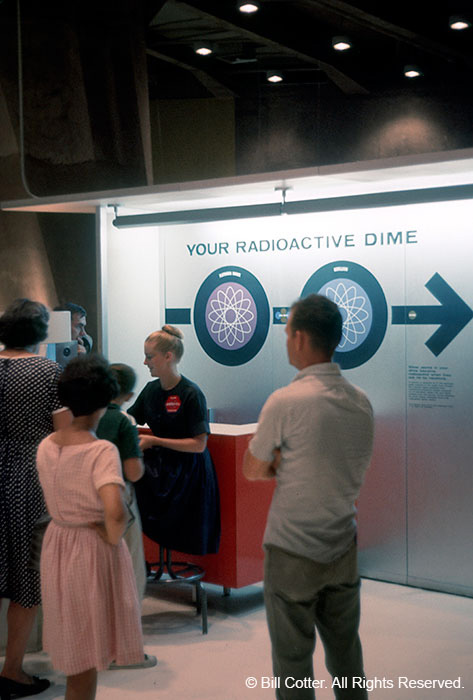 For adults, the AEC explains atomic energy and its value in research, agriculture and medicine. The displays include animated units, one of which lets the visitor make his own "atoms."
In this exhibit, visitors handed a dime to the attendant, who placed it in a irradiation device, then returned it in a blue plastic holder marked to denote event. These blue holders show up often in the recesses of forgotten boxes and closets, often prompting fears that the unwary homeowner had been living near a radioactive source all these years. In fact the dimes are completely safe. (CD #TBD Set 325 #22)

---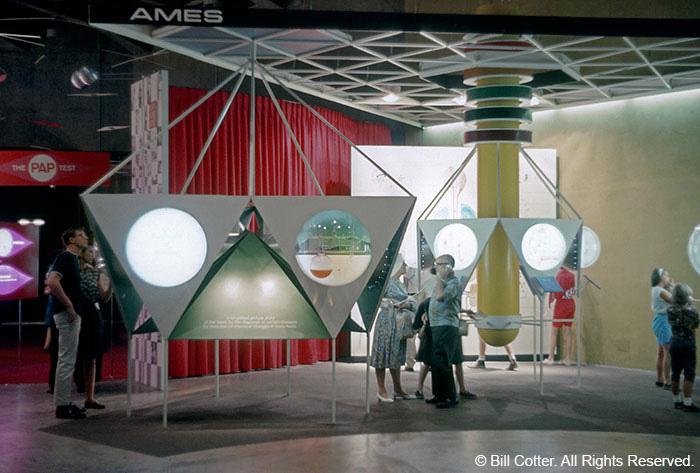 The Diagnosis of Disease. Animated models and diagrams in the display of the Ames Company show how chemical and electronic detection help diagnose diabetes, gout and other diseases. (CD #TBD Set 325 #21)

---
Want more information on the Hall of Science?

6-19-63 - Groundbreaking booklet
9-9-64 - Dedication booklet
8-8-71 - Queens Science Hall to Get Atomic Reactor
11-12-83 - Political Clash Clouds Future of Science Hall
7-14-86 - Science Hall Is to Reopen After 5 Years
---
Transportation Area pavilions