Johnson's Wax
This pavilion, a great gold disk which seems to float 24 feet above the ground, is supported by its surrounding columns. It houses a 500-seat theater in which a documentary movie dramatizes the theme of brotherhood. An exhibition area at ground level offers a climbing contraption for children, a home care information center and a shoeshine center that provides free shines.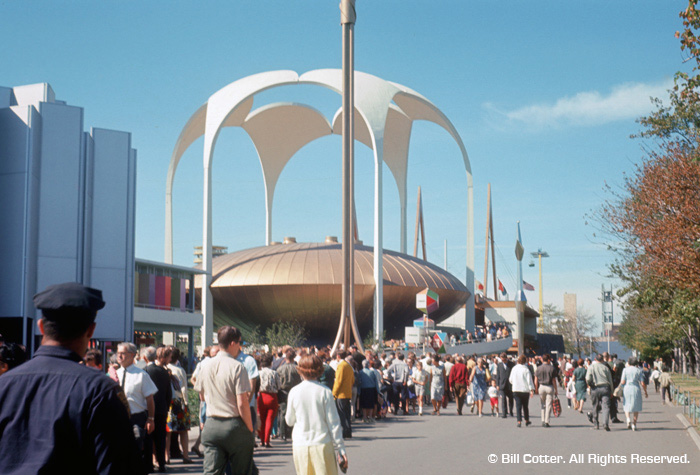 The Johnson's Wax pavilion was one of the more unique structures at the Fair. The soaring white arches were visible from much of the central part of the site. After the Fair ended the golden theater area was moved to Johnson's headquarters in Racine, Wisconsin, where it was rebuilt without the arches. (CD #16 Set 79 #27)
---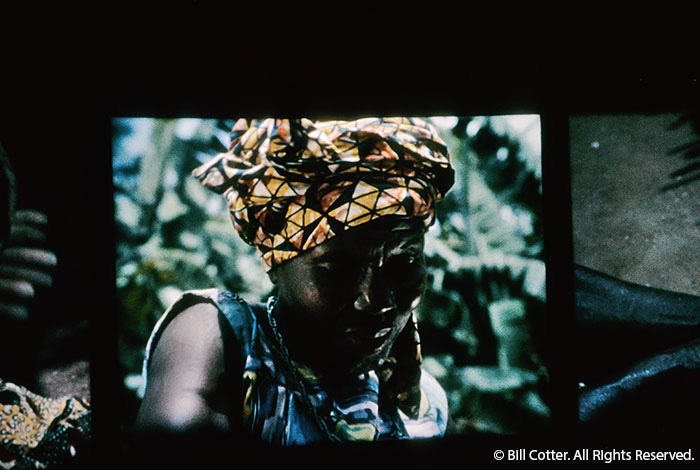 "To Be Alive". This sensitive 18-minute color movie, produced by Francis Thompson, whose documentaries have won many awards, uses three projectors, as many screens, and stereophonic sound to show the daily lives of people around the world. They grow up, fall in love, work, play and grow old, demonstrating that "men everywhere share at the deepest level the same drives, dreams, foibles." (CD #57 Set 244 #4)
The film is still shown today at Johnson's headquarters in Racine.
---
Home Care Information Center. Electronic computers answer such questions as "Do the new car finishes need cleaning and waxing?"
Guests could get instant answers to their furniture and floor care cleaning questions through a computerized database. Click on the sample printout card at the right for a file of other questions and answers.
---
Want more information on the Johnson's Wax pavilion?

10-16-62 - Groundbreaking booklet
Business Screen magazine
Golden Rondelle brochure
'To Be Alive' Is Hit at the World's Fair
---
Industrial Area pavilions