New England States
Dancers in the costumes of the many nationalities that have settled New England, frog-jumping contests, a "Liberty Tree" holding historic documents and a simulated walk on the moon are the chief attractions. The pavilion area, which consists of a village green and a series of hexagonal buildings, includes a rustic "Country Store" and a nautical restaurant that features famous New England dishes. Dances, contests and other events are held on the green.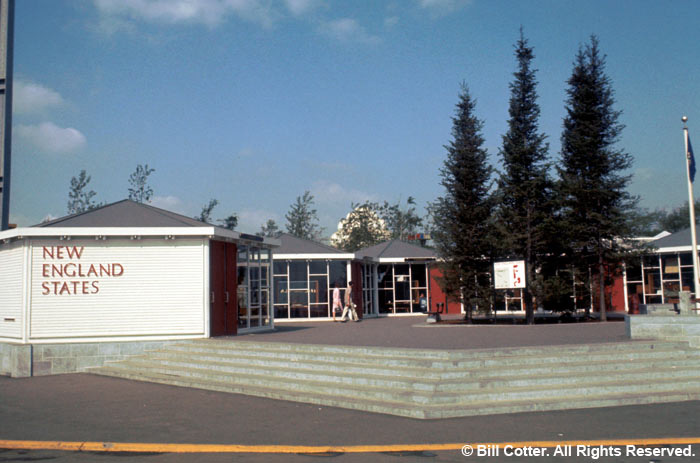 The Court of States. In a chain of six small enclosures at the entrance to the pavilion, each of the New England states - Maine, New Hampshire, Vermont, Massachusetts, Rhode Island, Connecticut - has exhibits showing its scenery and cultural attractions.
Befitting the simple design of many buildings in New England, the pavilion was a group of small glass-fronted structures facing a central courtyard. (CD #10 Set 50 #22)
---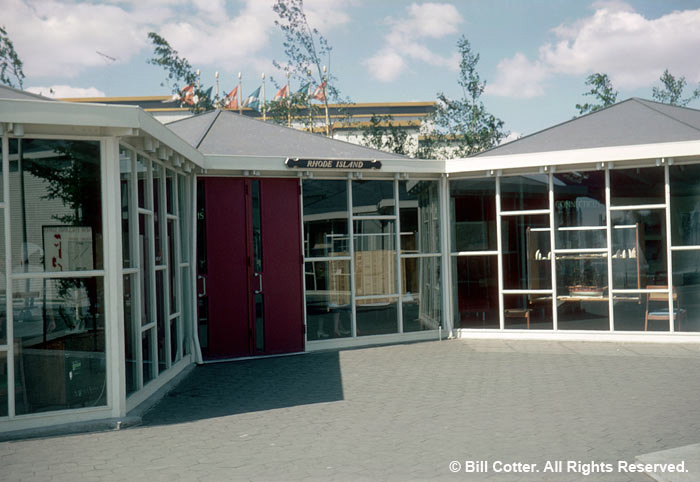 Each of the states had their own building to show off their history, industry and tourist attractions. (CD #21 Set 111 #11)
---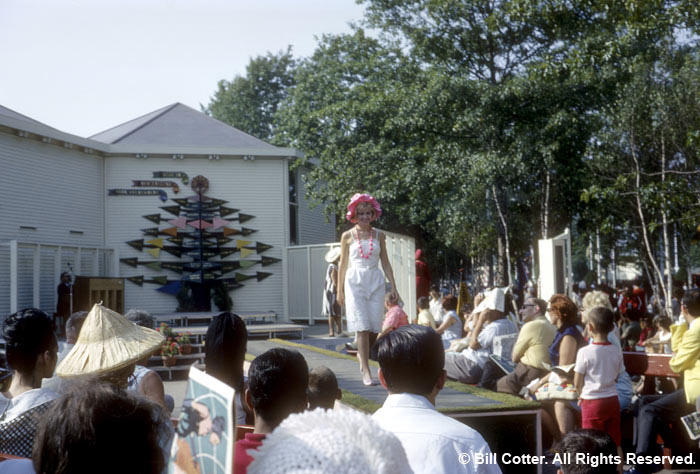 On the Village Green. During the course of the Fair, groups from different New England communities hold dances, musical performances and frog-jumping contests, and New England craftsmen demonstrate their art. Fashion shows, displaying New England-made apparel, are held daily during the summer. A posted schedule in the Court of the States tells what is happening on the green each day. (CD #37 Set 185 #30)
---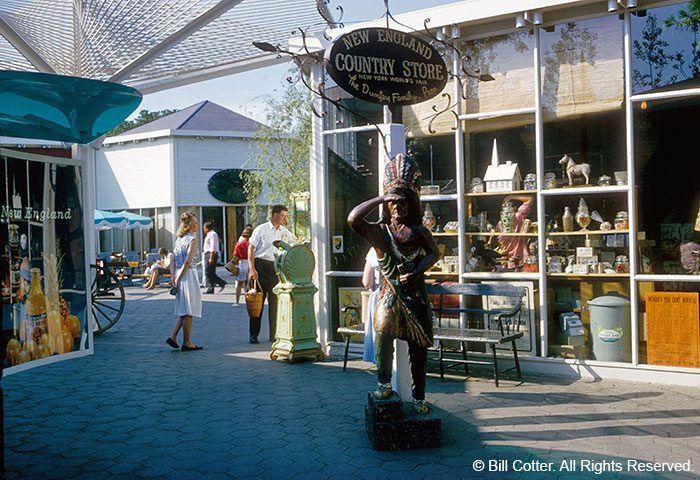 Down East Charm. Representative New England products are sold in the Country Store, where the potbellied stove, the cracker barrel and the candy jars are as they were generations ago. (CD #53 Set 227 #1)
---
Want more information on the New England States pavilion?

8-63 - What It Took to Get New England at the Fair
9-19-63 - Groundbreaking booklet
5-10-64 - Gun Scare at Fair During His Visit
Press releases
Behind the Scenes at the New England States Exhibit
The Country Store
The Court of Industry and Commerce
"Made in New England - Worn Everywhere"
"Millstone-at-the-Fair"
New England at the Fair: 1620-2020
New England Community Events at the Fair
New England Council World's Fair Corporation
New England Pavilion at Fair to Revive Liberty Tree
Progress Report #1 - October 1962
Progress Report #2 - January 1963
Regional Theme Building
State Pavilions
To the Working Press
Tribute to President John F. Kennedy
---
Federal and State Area pavilions