(This is a temporary page while this section of the site is being developed.)
---
Photos on CD - images currently available from Expo '74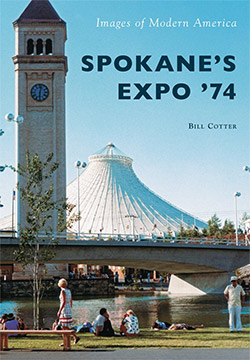 My book on Expo '74 was released on February 13, 2017. Click on the cover for details.
---
Automobile Association of America brochure
Commemorative book
Entertainment schedules
Excerpt From the Exp '74 Environmental Impact Report
Expo 74 Club invitation and application
Expo Action (City engineering report of 2/15/72)
Fact & Information Sheets
Ford press releases
Kodak Press Releases
Large map - look for the spelling mistake!
List of participants
Magazine articles
News & Press Releases
Newsletters
Publicity material
Spokane Daily Chronicle
United States Pavilion
USSR Pavilion - booklets
USSR Pavilion - News & Views from the Soviet Section
White House Proclamation (2/1/72)